In 1985, two novice moviemakers, director David Anspaugh and writer/producer Angelo Pizzo, began filming Hoosiers. They and their cast and crew faced the pressures of a short schedule, a small budget, and other challenges. Yet buoyed by the support of countless Indiana residents, they overcame their own self-doubt and the skepticism of outsiders to create a classic. This website showcases rare images from and not-widely-known facts about this much-loved movie.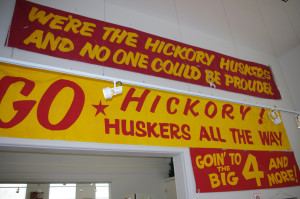 * * *
Hoosiers could be considered a "guy" movie
because of its paucity of female characters. Only three women in the film have speaking roles, and just one of them gets more than a minimal amount of screen time. But although female characters are a minor factor in the movie, women were instrumental in the making of
Hoosiers
. Women assisted with finding filming locations, designed the costumes, served as permanent extras, helped behind the scenes, and more.
In the spring of 1985, Knightstown resident Peg Mayhill read in the newspaper that the Indiana Film Commission was searching for locations in which to shoot a 1950s high school basketball movie called Hoosiers. Right away she went to visit the IFC in person to tell them about her town's attractive, well-preserved 1921 gymnasium, even bringing a yearbook to show them pictures. Her efforts paid off when the Knightstown gym was selected as Hickory's home court.
In Brownsburg, real estate agent and former Chamber of Commerce president Mary Miller hoped the IFC would consider her town's former high school gym as a filming location. Miller had Brownsburg's police chief, fire chief, town board president, and school superintendent write letters to the filmmakers, expressing their interest in the movie and promising full cooperation and discretion if their gym was chosen. It ended up being selected for the movie's sectional game.
When New Richmond residents learned that the filmmakers wanted their town to serve as downtown Hickory, postmaster Wilma Lewellyn advised caution. No one in town had read the script; they only knew that Hoosiers had something to do with basketball in the '50s. Before the town board voted on whether to give the production the go-ahead, Lewellyn wanted reassurance from the filmmakers that Hoosiers would not cast New Richmond in a bad light. She wanted to be certain that the movie would be something that would make residents proud.
Serving as a permanent extra helped convince Lewellyn of the movie's quality and the filmmakers' good intentions. The group of permanent extras, made up of mostly New Richmond residents, many of them women, attended the shooting of all the home games in Knightstown and appeared in some other scenes as well.
Lewellyn took quite a few photographs throughout the production, helping document the moviemaking process. Nancy Long, mother of Hickory Husker Brad Long (Buddy), also took a lot of great behind-the-scenes pictures, especially of the Huskers, as she attended most of the filming. Lewellyn also collected articles about the production of Hoosiers from newspapers all over the country, eventually filling two large binders.
Jody Whicker, whose homestead was used as both the Fleener house and Norman's house, helped the production staff by lending them or helping them locate things they needed. Because most of the crew were not from Indiana, they needed help with tasks such as finding antique shops at which to buy objects to decorate the sets. Whicker donated tablecloths, set decorations, and wardrobe items for Barbara Hershey and Fern Persons to wear in their outdoor scenes. She even helped the crew find pumpkins to pile against the pigpen on Cletus's farm.
Jane Anderson designed the costumes, including the multiple sets of basketball uniforms, each of which employed different colors and designs. The Hickory home uniforms in particular were so memorable that in 2015 the NBA franchise Indiana Pacers created special red-and-gold Hickory Pacers uniforms. The team wore these during several games as part of the NBA Pride Collection, which celebrates a team's or region's unique history.
Los Angeles Times film critic Sheila Benson became an early supporter of the film as it made its West Coast debut on December 12, 1986 to be eligible for Oscar consideration. Her review, titled "Stand Up and Cheer for 'Hoosiers,'" heaped praise on the movie and gave it much-needed positive buzz two and a half months before its national premiere. Encouraged by the overwhelmingly favorable response from Benson and other critics, Orion executives decided to roll out the movie to 90 theaters in Western cities in January 1987, ahead of the nationwide debut scheduled for the end of February.
These women's efforts were invaluable to the success of Hoosiers.
* * *
Check out the new, updated, and expanded The Making of Hoosiers, Second Edition.
New to this edition are photos and images, as well as additional stories, quotations, details, and info on the production of this classic motion picture. The most complete account of the creation of the movie, it's a must-have for anyone who loves
Hoosiers
. Paperback; 312 pages; $16; published August 2016. Available on
Amazon
and
Barnes & Noble
.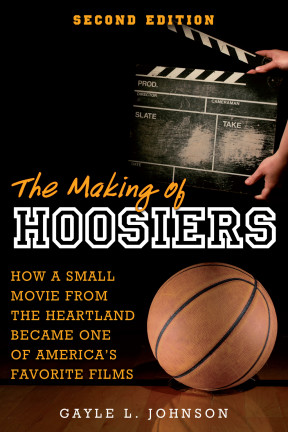 Copyright © 2013–2017 The Hoosiers Archive